Every August 15th Italians celebrate Ferragosto, a mid-summer feast that is second only to Christmas as a holiday. The festivities are part Thanksgiving, a feas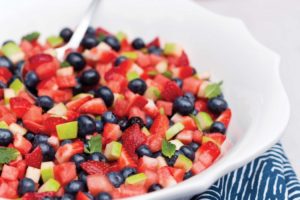 t to celebrate the end of harvest, and part religious, celebrating the Assumption of the Virgin Mary.
Traditionally, Italians leave the cities for the cooler beaches and mountains to celebrate Ferragosto. Families and friends get together, drink wine, eat fantastic Italian food and watch fireworks. In that sense, it is not too dissimilar from the 4th of July or upcoming Labor Day holidays.
A center point to the Ferragosto celebration is watermelon. Summer cocomerata is a traditional Italian summer dish that pairs watermelon with other summer fruits and mint for a cool and refreshing treat perfect for sharing at your next get together.
Ingredients:
• 1 small watermelon
• 1 cantaloupe
• Blueberries
• Strawberries
• Green apple
• Any other summer fruit you enjoy
For the sauce:
• 1 package of mint leaves
• 1/2 cup of lemon juice
• 1/2 cup of white sugar
Cut the watermelon and the cantaloupe in half and remove seeds; chop the apple. Using a melon baller, make little watermelon and cantaloupe balls, or dice if you prefer. Remove the whole interior of the watermelon and use its skin as a bowl.
To prepare the mint sauce: in a food processor, blend the mint leaves, sugar, and lemon juice.
Pour the sauce into the watermelon, stir carefully and keep it in the fridge.